Parkinson's disease is the second most common neurodegenerative disease after Alzheimer's disease, affecting more than 7 million people worldwide. It is characterized by emotional and cognitive impairment, severe tremor, gait changes, and increased muscle tone. It most often develops in old age, but there are cases of early Parkinson's. In men, the disease is diagnosed 1.5 times more often than in women.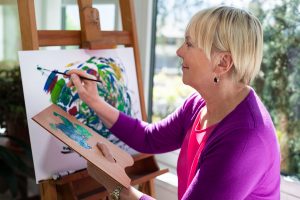 Odessa doctors presented the results of their scientific work during the Congress of the European College of Neuropsychopharmacology (ECNP), Medscape reports. The study involved 50 patients with confirmed Parkinson's disease, the average age was 57.8 years, about half were women (47%).
For 12 months, 30 volunteers received only drug therapy, the remaining 20, in addition to standard treatment, underwent a course of art therapy. Under the guidance of professional artists, the patients were engaged in drawing and modeling from plasticine.
The authors of the study evaluated the results twice: after 6 and 12 months. After the initial assessment, the doctors found that the volunteers had significantly improved all indicators, which indicates a slowdown in the progression of the disease. In particular, their cognitive abilities improved, tremors and daytime sleepiness decreased.
In addition, art therapy significantly improved the mood of the participants, all of whom had reduced symptoms of depression and anxiety. The positive effects of the combined treatment method persisted throughout the observation period.
"The use of art therapy can reduce the severity of motor and non-motor manifestations of Parkinson's disease https://en.wikipedia.org/wiki/Parkinson%27s_disease. In addition, it is an affordable and absolutely safe method of maintenance therapy, "said Irina Khubetova, lead author of the study, head of the neurology department at the Odessa Clinical Hospital.